Inhaltsangabe / Table of Contents/Table des matières
How to make every children's gift a success
There is hardly anything nicer than making little children's hearts beat faster at Christmas with great presents. When the little hands impatiently open the packaging and the eyes start to light up, we are even happier than being given a present ourselves. Ideally, the children will really enjoy their gift for a long time. Even though enthusiasm plays the biggest role, there is more to consider when choosing the right gift:
Risk of injury
Many toys contain harmful substances. When buying toys, look for reputable seals, sustainable materials and, if in doubt, ask the manufacturer. Sharp or pointed objects should also not end up under the Christmas tree for children. Children under the age of 3 should not be given anything that contains small parts that can be swallowed. A note to this effect is usually printed on the packaging.
Age recommendations
Toys or books usually have an age recommendation that you can follow. However, it is often helpful to orientate oneself on the child's play behaviour and existing abilities. For toddlers in particular, educational toys can be helpful to improve motor skills. The older the child gets, the clearer individual interests become, which are best taken up immediately with possible gift ideas.
Wish list
Some children know exactly what they want. They are often inspired by their friends' toys. Create a wish list together with your child and pick out something suitable. This way, the Christmas present is guaranteed to be a success.
Hobbies
Children develop individual interests at an early age: From painting to playing the guitar to sports: the possibilities are many. For each hobby, accessories such as pens, books, clothes and much more can be given as gifts, with which the child can continue to passionately pursue what he or she likes best.
Ask parents
If the gift is not for your own child, it is always advisable to consult with the parents: Is there a favourite colour? What does the child not like? What is important to the parents? If you already have a concrete idea, ask the parents if the child has had something similar for a long time. This way you avoid giving away something superfluous.
Creative gifts for children
Window painting pictures
Children are just as happy as we are to decorate the home. How about window painting pictures? Children can get creative with painting and stick beautiful works of art on the windows that shine beautifully, especially in the sunshine.
Plasticine
There are no limits to creativity with modelling clay – no matter what shapes come into the child's head, anything can be conjured up with it. If you are keen on homemade, you can easily make your own modelling clay with very simple household products.
Dress-up box
Every child loves to dress up – whether it's a boy or a girl! A box full of dress-up trinkets is the perfect Christmas gift for children who enjoy taking on different roles. Besides costumes and make-up, which are probably still available from the many carnival parties, a dress-up box can also be equipped with discarded T-shirts, jumpers, hats, belts, scarves and so on. You can really put anything in here that can be used to conjure up a disguise. The best thing is that the dress-up box can be filled up again and again in the years to come.
Children's gifts for bookworms and researchers
books
Stories transport us all, and especially the little ones, into imaginative magical worlds. Children's books not only stimulate the imagination, they also help to visually represent upcoming changes or to learn important rules of behaviour such as crossing a street. In addition, books promote memory and the ability to concentrate. At the cocon day care centre, each group has a basket and a shelf with books, which the little ones can read themselves at any time in the cosy corner. Everyone decides for themselves which book they would like to look at and whether they would like to read it alone or together with other children.
Our top book recommendations:
"Das NEINhorn" by Marc-Uwe Kling
A very pedagogically valuable book that teaches children about autonomy, independence as well as setting boundaries. And, by the way, incredibly funny, which makes our children in the cocon day care centre laugh regularly.
"Mir ist langweilig" by Ryan Eyers
This book guarantees never again boredom on rainy days. In the book you will find many creative ideas that can all be implemented at home with few materials.
"Hier sind wir" by Oliver Jeffers
Here, our universe is explained in a child-friendly way, which wonderful creatures inhabit our earth and how important it is to treat all resources, people and creatures with care, kindness and respect.
"Hilf dem Löwen Zähne putzen" by Sophie Schoenwald
A great participatory book that we like to read with the children at the cocon day care centre to teach them about gurgling and brushing their teeth in a playful way.
"Wundervolle Welt der Natur" by Ben Hoare
With this beautiful nature picture book, the little ones' thirst for knowledge can easily be quenched. In this book, answers can be found about gems, plants, animals… simply everything that nature has to offer.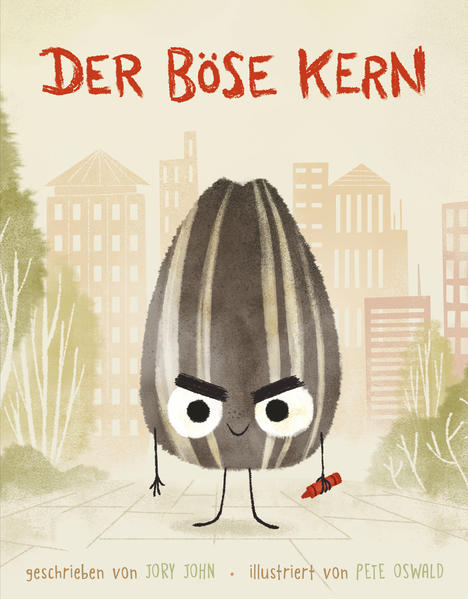 "Der böse Kern" by Jory John
Children can take away an incredible amount here: An inspiring story, lovingly told, about the courage to change and develop.
Experiment kit
What could be more exciting for a little researcher than carrying out experiments themselves? Even adults can learn a lot of new things and have fun with an experiment kit. With an Advent calendar like this one, you can sweeten the waiting time until Christmas with exciting and spectacular experiments.
Scratchbook
A scratch book is a great way for children to create wonderful works of art. A wooden pencil is used to scratch on black pages and tropical animals, colourful dinosaurs or artistic patterns appear.
Children's Gifts for Outdoors
Telescope
In summer, it is almost impossible for little ones to observe stars, but in winter, when it gets dark before bedtime, they too can discover the universe with a telescope. Don't worry, it doesn't have to be very expensive. Even inexpensive models provide plenty of fascination.
Experience
Giving an experience as a gift means jam-jar moments for all who attend. Such an outing means time with family and friends. Including many wonderful memories.
Ideas for an experience gift:
Alpaca hike
Go ice skating
Magic course for children
Guided tour of a football stadium
Tickets for children's theatre
Winter hike
Magnifying glass
A beaker magnifier makes a trip into nature unspeakably exciting: it can be used to examine small ants, beetles or flowers and leaves down to the smallest detail. An inexpensive gift that gives children lots of fun in the fresh air.
How much money should you spend on children's gifts?
Gifts for children do not necessarily have to be expensive to be well received. Children do not remember later which gift cost the most money. Above all, the little ones remember time together and rituals, conversations and activities outside.
Gifts should therefore ideally create moments that can later be used to fill photo albums. It is not the quantity of Christmas gifts that matters, but the surprise.